We are starting to see good participation from our 100 Men.  The only glitch seems to be that some people are not indicating where they want their donation directed. If it goes to the House of Lazarus, that's pretty indicative of support for the "Heat for the Holidays" but If the donation is being sent to Community Food Share please indicate if  it is  for "Heat for the Holidays " in the notes section.
Any donations to the Christmas Exchange goes directly to them by sending a cheque  to Bonnie McNairn, PO Box 1389, Morrisburg and payable to the South Dundas Christmas Exchange
AND ....  here's an update on one of last year's donations to Winchester Hospital from Cindy Peters  of WDMH Foundation:
"Since Covid-19 has cancelled this year's version of the 100 Men Who Care, I thought I should provide you with a written update of what your funding has done. 
As you know, we applied for funding for approximately half of the cost of a transportable patient lift (estimated to be approximately $15,300). The lifts are a crucial part of the care provided to our patients, by safely lifting and moving them. They are used all through the hospital.
I have great news to share with you! Because WDMH was in need of a number of these lifts, when they discussed pricing with the vendor, they were able to negotiate a better price. In the end, we purchased five lifts, for just under $19,000! The funding we received from your group was instrumental in us being able to do this, and we are so grateful!    
Hopefully we can present in person next year!"
---
---
Although our in-person event was shelved for 2020 due to COVID,  the needs in our community did not stop.  As we approach the holiday season and what promises to be a miserable winter for many, we wanted to make you aware of a couple of worthwhile charities that could use your support.
The South Dundas Christmas Exchange, in operation for many years in the community is doing their best to provide the makings for a hearty Christmas dinner and clothing and gifts for vulnerable children.  As you can imagine, they are unable to access some of their usual fund-raising efforts this year and need our help to "make the magic happen".
The Exchange people have confirmed to us that they are a registered charity and are able to issue a receipt for income tax purposes.   To donate to this worthwhile cause, we suggest mailing a cheque to Bonnie McNairn, PO Box 1389, Morrisburg and payable to the South Dundas Christmas Exchange.
---
The other activity that we feel warrants your consideration is a joint effort by Community Food Share (CFS) and House of Lazarus (HOL) who, along with Winchester BMR want to make homes a little warmer for their clients this winter. 
In 2019, the trio joined forces to deliver to Dundas County's vulnerable sector through supplying 43 families with 13 one-ton loads of Eco-Energy Logs through Heat for the Holidays.
The response to this program last winter was overwhelming. This year, they anticipate doing more in particular due to the impact that COVID-19 has had on families in Dundas County.
During last year's Heat for the Holidays program with every house they delivered to, they could see the clear need for assistance. In past years many residents were using blankets to close off parts of their home in an effort to conserve heat.  More than one family who has spent the winter without heat, was forced to wear their outdoor coats, hats, and mitts indoors. This should not be happening. No one should have to live this way.
A $75 donation will supply a week's worth of Eco-Energy Logs and a $300 donation will supply a month's worth of Eco-Energy Logs to a family in need this winter. Tax receipts will be issued for this program.
Your donation can be made by visiting the website for either Community Food Share or House of Lazarus.   
Here are the links:  www.communityfoodshare.ca/donate/   OR www.hol.community/donate/ .
Please indicate that the donation is for the 'Heat for the Holidays' program.
A donation can also be mailed to Community Food Share, PO Box 32, Winchester, ON K0C 2K0.
We thank you for your consideration and hope that in 2021 we can meet again for a more traditional event with presentations from potential recipients of our donations.
Season's greetings to you and your family.
---
---
109 Members Attended in 2019.
Evidence of the generous support of people, who live in South Dundas, was obvious once again as over 100 men came to the Morrisburg Legion last evening to listen to the presentations of 7 local organizations, who were looking for financial support.  The men listened to presentations from:  Timothy Christian School, Dundas County Hospice, Winchester District Memorial Hospital, Iroquois & Morrisburg Waterfront Advisory Committee, Community Foodshare, Community Living Dundas County, and South Dundas Historical Society.
The men then voted for the organization they felt would most benefit the community of South Dundas.  The vote was extremely close with the request for a "transportation patient lift", by Winchester Hospital,  receiving the most votes and therefore obtaining the full amount of their request, $7,600.  The request for "the purchase and installation of two Vandal Resistant Water Bottle Filling Stations at Iroquois Beach and the Morrisburg Splash Pad,  came in 2nd place and received $3,300, which was more than half of their initial request. 
A huge thank you goes out to the men, who continue to support the 100 Men of South Dundas initiative, as well as the Morrisburg Legion, who donated the use of the hall for this event.  
152 Members Attended in 2018.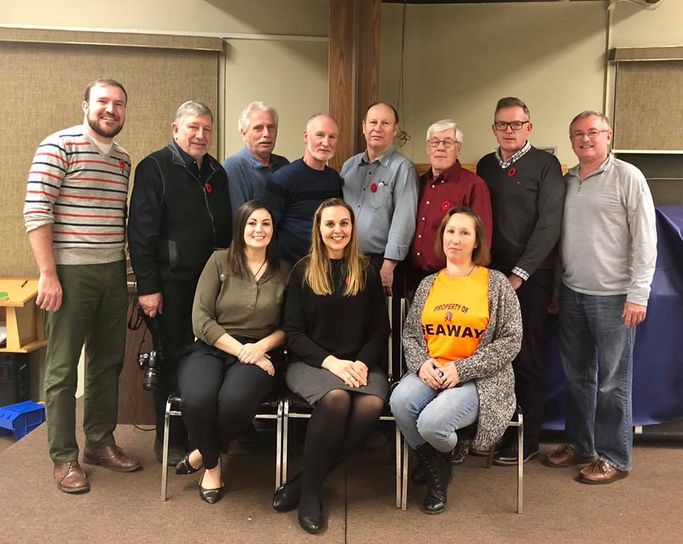 A Big Thank You to the 152 men who made our 1st 100 Men Who Care South Dundas such a great success! Photo of the winners & the organizing committee above.
The Winning Charities:
Wheels of Hope ($5,200)
Canadian Cancer Society program providing free transportation to cancer treatments.
Seaway District High School ($10,000)
Enhancements to Learning Commons Room - technology resources, reading materials, and collaborative working layout.
100 Men of South Dundas (really 100 plus!) is a group of men in South Dundas who care about our community and are devoted about contributing to its health and vitality. Each year, we will meet for about one hundred minutes and make a $100 donation to a local deserving project  voted on by the members.
$100 x 100 men = $10,000 per year invested in making South Dundas an even better place in which to live!
Now there's a winning formula! Just think of the difference it could make to our many deserving local causes. It couldn't be more simple, more fun, or have a more powerful effect, and you can be a part of it. 
100 Men of South Dundas is for you if:
You want to contribute to worthy causes in your community but aren't sure how to fit volunteering into your schedule;

You can commit to about  one hundred minutes every year;

You want 100% of your money to go directly to a well deserving local project;

You want your $100 donation to be part of a larger amount that can create powerful changes in your community.
MEMBERSHIP REQUIREMENTS -
YOU MUST:
Be a caring and enthusiastic man, interested in the health and vitality of your community;
Commit to attending a 100 minute meeting each year;
Commit to donating $100.
Membership Benefits:
Have the chance to make a real difference for a deserving project close to your heart;
Be able to help others with a minimum time commitment;
Meet other committed and caring men from our community;
Be a part of a powerful force for change
Each member commits to donating $100 to the project that wins the most votes.  There may be second and third prize winners if we have a surplus funds.
The Morrisburg Legion has generously offered to host the evening this year.
 
Each contending project will have three minutes to present their case to the voters.
There will be one vote - with each member selecting their favoured project.
 
Each member will be given a ballot with the names of all nominated projects.
 
Every member will write a cheque for $100 to the organization whose project receives the most votes (even if that is not a personal first choice).

Members will receive a tax receipt directly from the winning organization.

Members who are unable to attend the meeting are invited to give their cheque to another member to deliver on his behalf. 

The Projects under consideration must serve South Dundas and their sponsoring organization must provide individual tax receipts directly to contributing members.

The selected organization must agree not to use member information for further solicitation purposes, or give it out to any third parties except for tax purposes.
---
If you have an idea for a project that you believe will enhance our community, it may be time to get organized.  It's amazing what you can accomplish with an idea, a few like-minded people and a bit of elbow grease!